'When You're in Love'
Valentine's Single Out Now
'When You're in Love' is Jacen Bruce's latest original release.
Feel good, upbeat, country, rock n roll single. Featuring europe's No 1 pedal steel player David Hartley, Lead guitarist Tim Slater, drums Len Black double bass Kurt Replais and Rich Young on piano.
Listen Here 'When You're In Love'
Out now!
Good feel, country rock, a good measure of Hawaiian themed love songs
Featuring and dedicated to the memory of John Stannard on lead guitar
Honey in Honolulu 
Have a listen and order here Albums

The Siren review from The Musician
'Cool as ice rockabilly for the 21st century'
The Sun Album Project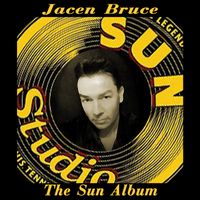 To Memphis and Back
Takes you on a trip to the legendary Sun Studio and back to the UK for the launch of the album.
In memory of and featuring Rockabilly Hall of Fame pioneer Paul Burlison.
FREE
DOWNLOAD!


From the acclaimed Siren album